Become a member in the international hostelling association
Hostelling International Card

The membership card, "Hostelling International", gives you access to the youth hostels worldwide. Being a member means much more than just being a "Hostelling International" cardholder.
You will be member of one of the largest non-profit organizations in the world, which is committed to promote youth tourism, international understanding, tolerance and environmental protection.
With your membership you are contributing to the constant maintenance, improvement and expansion of the youth hostels network.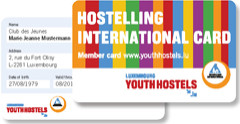 However, you have to live in Luxembourg to become a member of the Luxembourg Youth Hostel Association NPO. Non-residents please click here
---
Advantages

The "Hostelling International Card" knows no age limit and offers a range of benefits:
The key to 4,000 youth hostels in over 90 countries worldwide.
The opportunity to travel and participate in activities organized by the youth hostels.
A subscription to our newsletters.
An information service of all youth hostels worldwide.
An international reservation system.
Access to the youth hostels conference rooms at an advantageous price.
---
Other ways to get your card
Come to the youth hostel Luxembourg-City, 2, rue du Fort Olisy, L-2261 Luxembourg or any other youth hostel of your choice.

Price and age categories
The annual fee varies in Luxembourg according to the age category:
---
Cadet (4 to 11 years):
free of charge
---
Junior (12 to 30 years):
5,00 €
---
Senior (from 31 years):
10,00 €
---
Group (at least 10 persons):
20,00 €
---
Family (1-2 adults with X minor children):
20,00 €
---
Advantage card "under one roof" (for members living at the same address):
20,00 €
---